An anonymous member of our "COMPLAINT SINGAPORE" Facebook group wrote to us and told us her bad experience recently when purchasing some cupcakes from a popular Singapore bakery – Twelve Cupcakes, located at Bugis Junction at 200 Victoria Street #B1-03B.

*Note: Identity is masked for privacy concern.
According to the said member, she bought 6 cupcakes from the Bugis outlet on 8 August 2023 at 7:03pm. In total, she purchased 4 Red Velvet, 1 Strawberry, 1 Chocolate and 1 Choco Crunch pastry, which add up to a total bill of S$27.40 in all.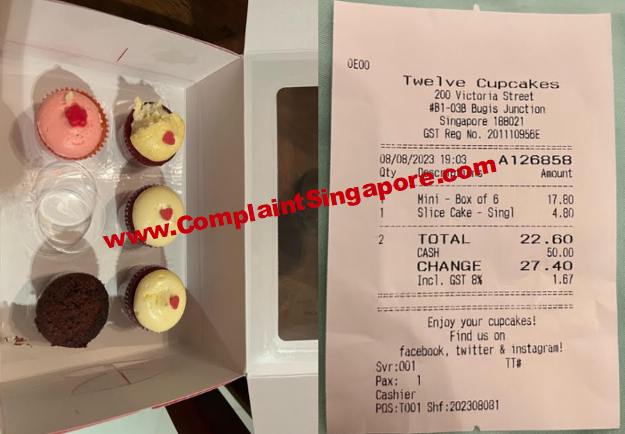 The member also indicated that the staff serving at the counter was rude and in a hurry and was rushing the member to choose quickly and started packing the cupcakes.

The member suspected the said staff had deliberately promoted to her in taking the cupcakes which are spoiled already.

Upon reaching home, the member opened the box and found the colour of the cream on the cupcakes is not the usual "off white", but looks yellow in colour and smelled badly.
Below is the original text extract from her email:
Hi,

Today, I bought 6 cupcakes from their Bugis store in the evening.

Red velvet is my favourite and I always get a takeaway pack of 6 or 12… for the last many many years.

But today the Red velvet was spoiled and cream was sour and it tasted bad.

I am very disappointed with the quality and I could not eat even 1 fully.we tasted 1 half cupcake cream only and all of these tasted bad.

I half tasted one and now I am worried what if I have an upset stomach due to this?

Now I will need to throw all 4 red velvet cupcakes.

Instead of posting on FB publicly I am messaging you here since I really had good expectations from your brand.
I got 4 red velvet, 1 strawberry and 1 chocolate And 1 Choco crunch pastry. Total bill was – SGD 27.40.
Also, the person serving at the counter seemed to be in too much hurry and was rushing me into choosing and packing things.

She rushes me to order and was a bit rude to me when I asked me about a few flavours. Now it seems like she already knew some are spoiled so she wanted to sell off quickly and hence was rushing me.

Please check photos, the cream color is not even usual " off white" or is actually yellow which I realised when I reached home.it smelled bad and I gave it one more chance to taste the cream little bit.
It was my way of celebrating the SG National Day tomorrow and now I am utterly disappointed l.

It is not worth paying 27.40 $ at any cost.

I would appreciate some refund of compensation and I think I will never want to visit this outlet again, after so many years Twelve cupcakes has lost a loyal customer!
We are now waiting for Twelve Cupcakes reply in regards to this incident soon.

Please refer to this article for more updates..