An anonymous member from our "COMPLAINT SINGAPORE" Facebook group, had forwarded us with a video reporting high levels of particulate matter detected from kitchen exhaust fumes blown towards the children playground beside #03-38, Beauty in The Pot at KINEX located at 11 Tanjong Katong Road.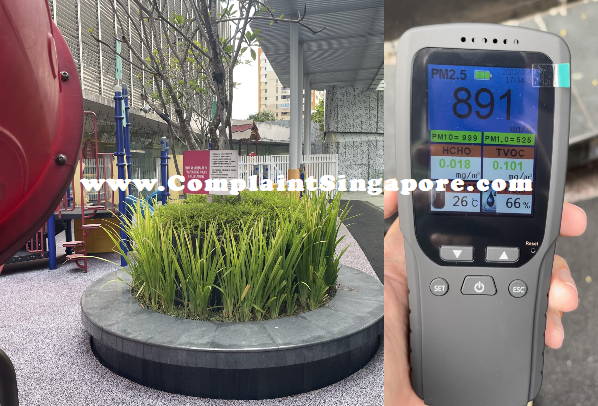 The anonymous member is worried that while their parents are dining at the restaurant nearby, their children who are playing a the playground are exposed to high levels of particulate matter that may trigger exacerbates asthma.

The playground is next to a Mindchamps Pre-School which also has access to it.

Source: Anonymous
(*Identity is masked for privacy concern.)
Below is the original text extract by the said member:
Read this post to safeguard the children

Children, the future of the nation, are getting exposed to very harmful pollution (800 PM2.5) due to kitchen exhaust fumes. Which place? A playground, the most innocent of all places.

The playground of Beauty in The Pot, 11 Tanjong Katong Rd, #03-38, KINEX 437157

While their parents are spending a premium for a hot pot meal. The playground is next to a Mindchamps pre school which also has access to it.

The effects of such high pollution levels are very serious.

Exposure to high levels of particulate matter exacerbates asthma, but also makes it more likely that a child will develop asthma. It's also linked to changes in childhood growth, metabolism and brain development, and it's classified as a carcinogen by the World Health Organisation.

Please share this post to safeguard the children
The member hope the authorities may take up action to resolve the issue, and more people can help to share the matter around to raise awareness to everyone.
Under the SCDF's Code of Practice for Fire Precautions in Buildings 2018 (commonly known as the Fire Code) requires all kitchen exhaust system to be properly maintained.

The entire (interior and exterior) exhaust duct and kitchen hood are to be degreased and cleaned at least once every 12 months.

Maintenance are to be carried out by a specialist, and records are to be kept by operators for verification.

Failure to do so may attract prosecution in the Court of Law in Singapore.