A guy posted in a our Facebook group – Complaint Singapore, about her girl friend had accidentally transferred some money to a wrong PayLah! account in Singapore.
After consulting with the bank, they were advised to contact the other party to ask for the money back.
However, despite several plead via SMS and phone call, other party refused and even scolded him for a mere S$13.70!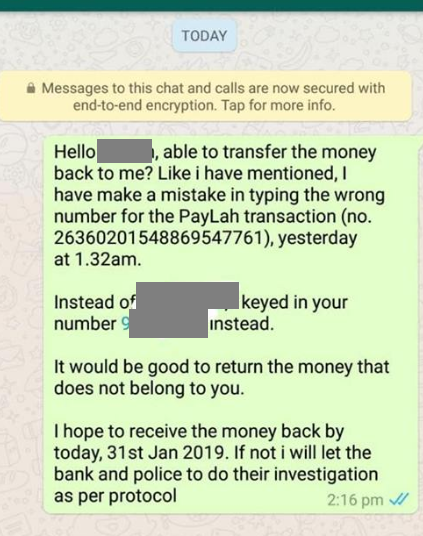 .
*Original post as follow (name/number censored):

I need advice guys. Yesterday my girlfriend accidentally sent to a wrong paylah account . And it turns out to be this guy name "Wxxxxx". I politely asked him to return $13.70 as my gf accidentally transfer to "Wxxxxx" paylah account.

The bank advised us to call the following person to get back the money.

So I called him and told him politely to return the amount . $13.70 is not much, but still able to feed a few plate of dish at kopidiam.

He refused & said that I am scamming his $13.70. He eventually admit that the money is transfer to his account & said it's not his problem at all & claim that he don't know about paynow & paylah! Most of the time he is screaming & yelling at me. So I gave the benefits of doubt that he don't know about the paylah or paynow.

As I show him several proof of my gf's bank statement.

He refused to admit that this number is his one & this time he claims that his number is tag under his boss's name . Kept scolding me all the vulgarities #%£€¥£ while I kept calm and answer him politely. I don't know what he is trying to tell me, it's confusing as he kept flipping all the weird conversation.

I don't know why a $13.70 can cause so much drama 😭 can you please enlighten me. +65 9XXX XXXX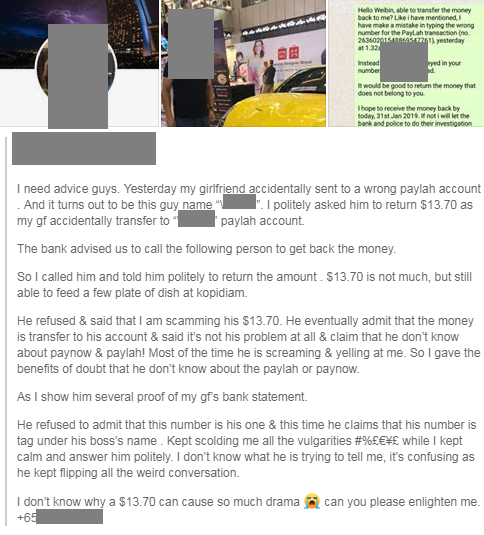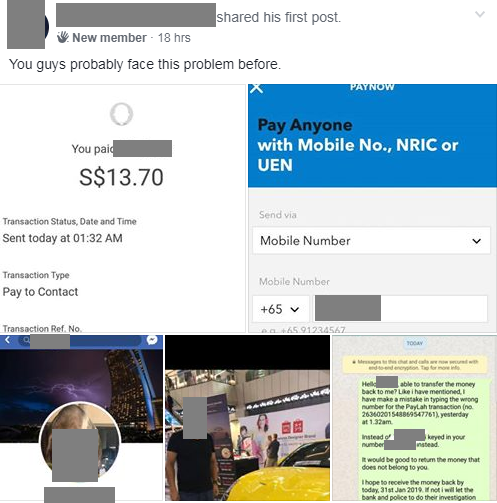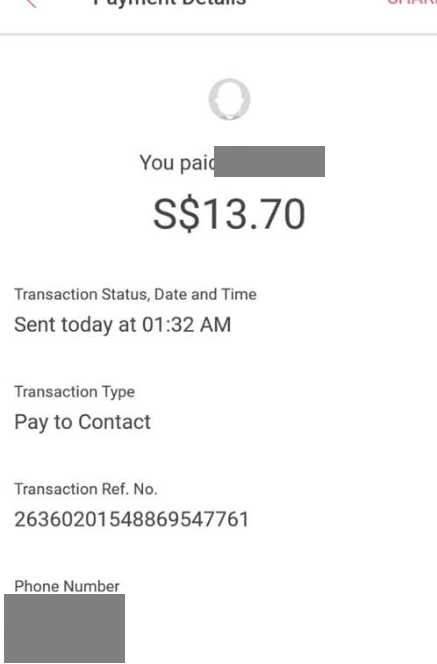 At the end, the guy asked everyone for any advise on how can he take back the money from the unknown person.
Better be careful when transferring any money via online, such as PayLah! or typical bank transfer, especially when local banks can't do anything to help recover any money during such cases..
.
Note: This article is a reproduction with assistance from www.thechillipadi.com (our social marketing partner), with expressed permission to publish. All identity of people who posted and commented are censored for privacy purposes.