A member of our "COMPLAINT SINGAPORE" Facebook group sent a photograph of a Singapore Birth Certificate belonging to Maszah Binte XXX'XX (*identity is masked for privacy concern).
Mii Patah :
Hi, I'm from Malaysia, a few months ago, I bought used furniture in Johor. Buy a used wardrobe. In the cupboard drawer, there are some documents, such as the Birth Certificate. What should be done. The owner must have had a hard time finding his birth certificate. Hope to be able to help.
According to the member – "Mii Patah", he brought a used wardrobe from a shop at Johor area a few months ago, but recently found some documents inside a cupboard drawer.

Among the documents found, was an original copy of a Singapore Birth Certificate. He then taken a photograph and posted in our Facebook group, hoping to locate the owner.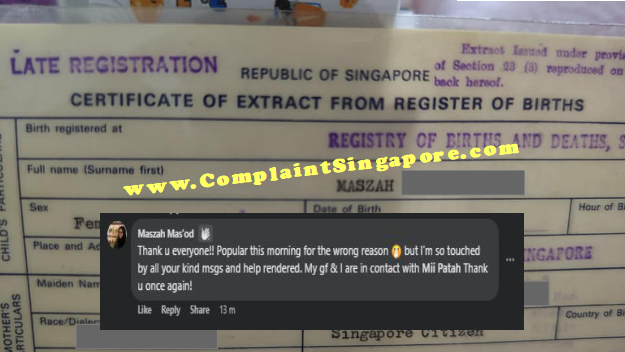 Within minutes after the photograph was posted, lots of helpful members replied with solutions to locate the owner. Some members even claimed they know the said person in the Birth Certificate, and even tag her to the post too.
After about 2 hours, the real owner was finally contacted and confirmed that the Birth Certificate belongs to her and she is in the process of contacting "Mii Patah" to retrieve the documents soon.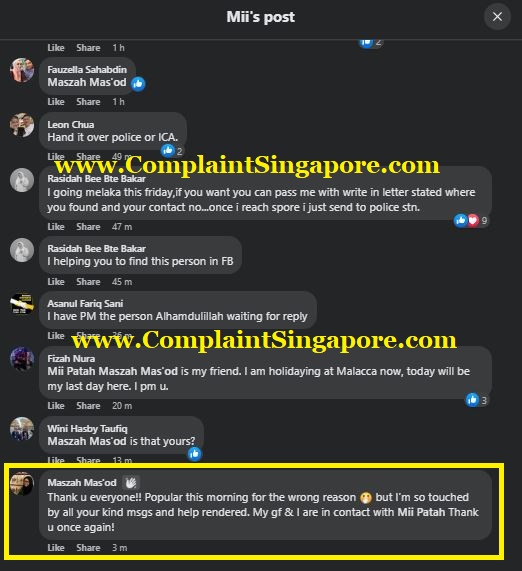 Below is the text extract of the reply by the owner:
Maszah XXXXXX
Thank u everyone!! Popular this morning for the wrong reason, but I'm so touched by all your kind msgs and help rendered. My gf & I are in contact with Mii Patah Thank u once again!