A member of "COMPLAINT SINGAPORE" Facebook group, posted in our group seeking help to find her missing cargo bicycle since 5 July 2022, from the bicycle parking lot area below 8B Upper Boon Keng Road.

According to the member, the cargo bicycle is for her pet dog – Peacher, who is sick since 25 June 2022, and needed it in order to travel around Singapore.

A police report was lodged.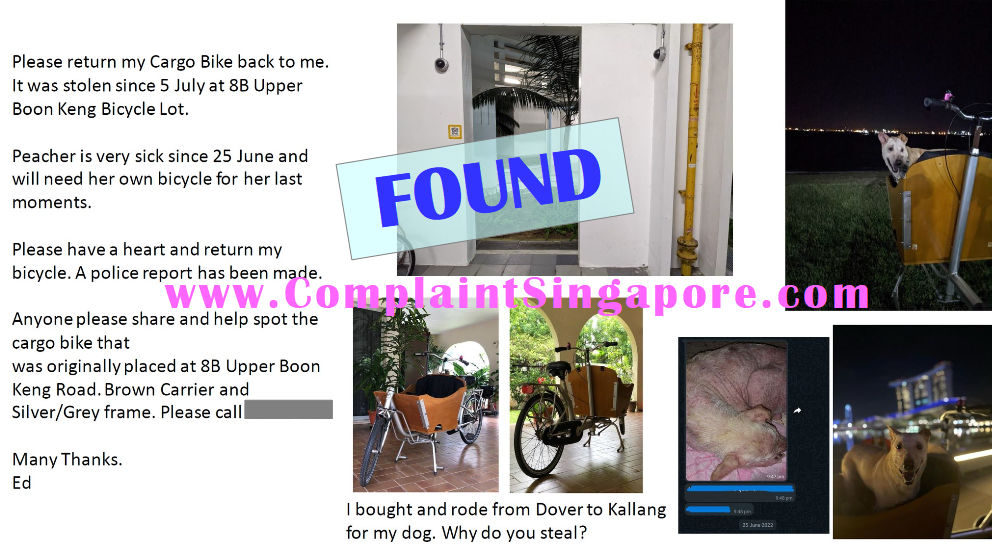 Within hours, members replied and help share the said post to other online media etc.

One member, "Leo Andrew" saw the said post and informed the owner that he saw the said cargo bicycle around his home area.

Subsequently, the cargo bicycle was finally found and returned to its rightful owner.

In appreciation of the great help provided by the wonderful members in "COMPLAINT SINGAPORE" Facebook group, the owner then posted a message thanking everyone, and informed that she had made a generous donation to Action for Singapore Dogs (ASD) in the name of all members of our group.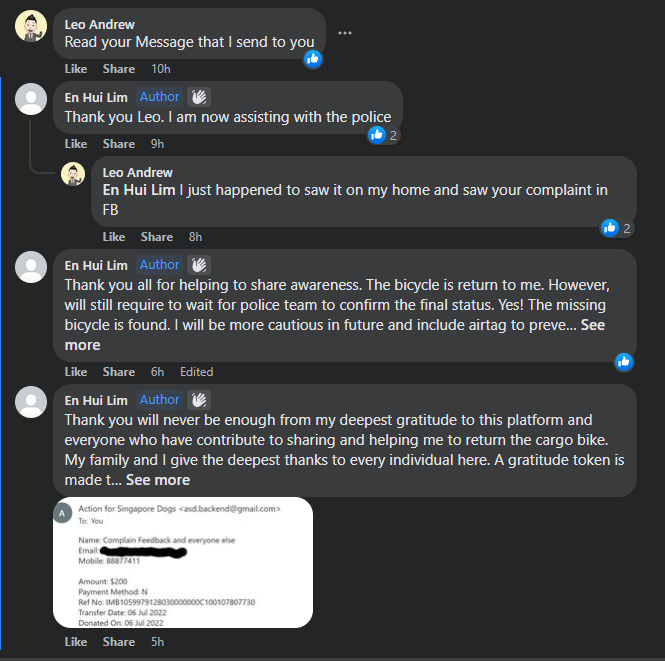 Below is the original text extract of the owner's latest message post:
"Thank you all for helping to share awareness. The bicycle is return to me. However, will still require to wait for police team to confirm the final status. Yes! The missing bicycle is found. I will be more cautious in future and include airtag to prevent such occurance again."

"Thank you will never be enough from my deepest gratitude to this platform and everyone who have contribute to sharing and helping me to return the cargo bike. My family and I give the deepest thanks to every individual here. A gratitude token is made to ASD in the name of Complaint Singapore FB group and everyone. Forgive me for the typo contribution name there. Special mention to Leo! Thank you for your help. I really appreciate your response here!" – En Hui Lim (Post Owner/Author)
Got Interesting Video or Complaint to Send Us?
Email Us: complaintsingapore (at) gmail.com

Appreciate What We Do?
Buy Us a Coffee:https://www.buymeacoffee.com/ComplaintSGP

Subscribe to Our YouTube Channel:https://www.youtube.com/c/complaintsingapore

Follow & Like Our Tik Tok Page:https://www.tiktok.com/@complaintsingapore