After a dramatic video of a woman ripping a licence plate off a car at Tuas Second Link went viral last month. Online vigilantes eventually found out the woman and her husband's names and their place of employment. They also found the name of her son and published all the information online – *Quoted.
A police report was subsequently lodged on the alleged doxxing of the woman and her family, which lead to this latest news article by CNA (Channel NewsAsia) on "When revealing a person's identity becomes a crime: What is considered doxxing?"
"COMPLAINT SINGAPORE" Facebook group – "First & Original Complaint Facebook Group in Singapore since 2017", was honored to be contacted by CNA reporter on this hot topic of doxxing, and an interview was conducted.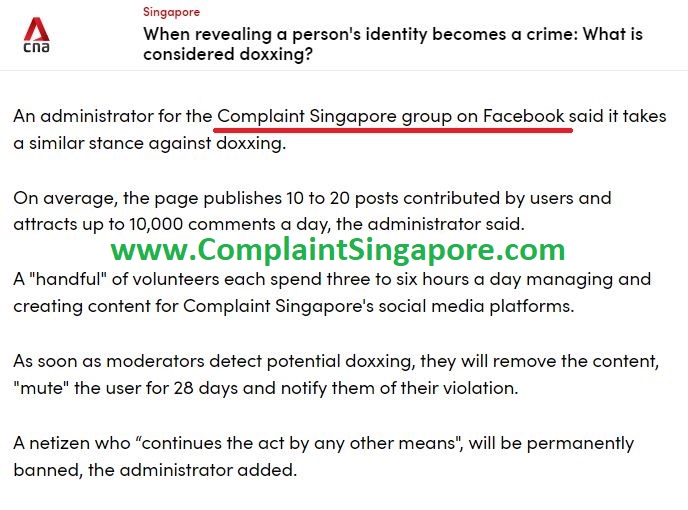 Below is the original text extract of the full CNA article on 7 August 2022:
When revealing a person's identity becomes a crime: What is considered doxxing?
SINGAPORE: Online vigilantes went to town after a dramatic video of a woman ripping a licence plate off a car at Tuas Second Link went viral last month.
They found out the woman and her husband's names and their place of employment. They also found the name of her son and published all the information online, where it remained accessible as of Friday (Aug 5).
Such identity hunting, known colloquially as "CSI", is not uncommon. But lawyers said that those behind the publishing of such information may be engaging in doxxing, a particular form of online harassment that became illegal in Singapore in January 2020.
A report has been lodged on the alleged doxxing of the woman and her family, a Singapore Police Force (SPF) spokesperson said.
Doxxing refers to the publishing of information that identifies an individual or someone related to them and is also meant to harass, threaten or incite violence against them, lawyers told CNA.
Doxxing can also be made out if there is knowledge or reasonable cause to believe that the information may facilitate violence, said lawyer Sanjiv Vaswani of Vaswani Law Chambers.
Other than more common personal details like name, date of birth, residential address, email address, phone number and identity card number, other identifying information includes place of employment or education, signature and family background.
WHAT IS DOXXING?
What is written accompanying a social media post or in a comment may count towards whether it is considered doxxing, lawyers said.
Lawyer Adrian Wee of Characterist LLC said a post could count as inciting violence if it said something like: "Everybody look at this person. We should teach this person a lesson".
The way a video is edited may also matter. Mr Wee, who is also an adjunct lecturer at Singapore Management University's Lee Kong Chian School of Business, gave an example of a video that features an emoji.
"If there is an emoji which is (of) a guy beating another guy … then that could potentially be seen as an incitement to violence," he said.
Quahe Woo & Palmer lawyer Joyce Khoo said a person would be engaging in doxxing if, for instance, he sees someone in a T-shirt identifying a school, finds the party's personal information like photographs and contact details and publishes information from his discovery online to harass, threaten or facilitate violence.
"It would inadvertently lead to the identification of this particular person and then subsequently, maybe there'll be all this harassment, people trying to track down this guy on Facebook or Instagram," she said.
An "interesting question" arises in a situation where a company makes a media statement after a post of their employee engaging in bad behaviour goes viral online, said Mr Vaswani.
"Where there are calls for violence against someone online and despite knowing this a company identifies that person as their employee, that company may in fact be liable for doxxing."
The police investigated fewer than 60 cases a year of alleged doxxing in 2020 and 2021, the SPF spokesperson said.
From January to April this year, the number was fewer than 10.
The penalty for publishing personal information to cause harassment, alarm or distress is a maximum sentence is a S$5,000 fine and a six-month jail term.
Where the information is published to cause fear of violence or facilitate violence, or where the perpetrator has reasonable cause to believe that would be so, offenders may be fined up to S$5,000 and jailed up to 12 months.
ARE VIRAL VIDEOS THEMSELVES CONSIDERED DOXXING?
Videos that have been filmed in public and are presented factually do not constitute doxxing, lawyers said.
"It is okay for somebody to post a video online where there is some information or if there's evidence of dispute happening in the public, and it is for parties to see that this is a factual account of what happened," said Mr Vaswani.
Details like car licence plate numbers shown in many viral videos, including the road rage incident at Tuas Second Link, are typically not regarded as identifiers, the lawyers said.
The car licence plate does not reveal private information, Mr Wee explained.
"The licence plate number on a car is viewable by all members of the public even without a video," he said.
While a car licence plate does point to a specific registered owner, that information typically cannot be used to identify the driver as such details are not available to the general public, Mr Wee said.
The registered owner may also not be the driver, he added.
CAN MEMES BE CONSIDERED DOXXING?
There was a proliferation of memes following the video of the woman in the Tuas Second Link incident, but are they considered doxxing?
Memes are a "relatively new territory" in Singapore's legal context despite having been around since the early 2000s, Mr Vaswani said.
He noted that a meme can be lighthearted in nature, for example, comparing someone to a superhero. However, in some cases, memes may cross the line into harassment, he said.
He gave the example of a meme that makes comparisons between a person's facial features with that of an animal. "An argument can be made that it was the author's intention to insult the subject of the meme," he said.
TAKING A TOUGH STANCE AGAINST DOXXING
Facebook groups that run on user contributions told CNA they take a tough stance against doxxing.
A spokesperson for Roads.sg, which has a following of about 260,000 people, said the page was created as a platform to promote road safety.
A team of full-time and part-time employees verify content submitted by users and "police" the page to ensure that commenters do not identify people in the videos or photos and harass them.
"No doxxing is allowed on our pages. No racism, no vulgarity, nothing. We are super strict on all this kind of stuff. We delete hundreds of comments a day," the spokesperson said.
"We take a very, very strong and clear stance on doxxing and this was long before the doxxing laws were passed."
An administrator for the Complaint Singapore group on Facebook said it takes a similar stance against doxxing.

On average, the page publishes 10 to 20 posts contributed by users and attracts up to 10,000 comments a day, the administrator said.

A "handful" of volunteers each spend three to six hours a day managing and creating content for Complaint Singapore's social media platforms.

As soon as moderators detect potential doxxing, they will remove the content, "mute" the user for 28 days and notify them of their violation.

A netizen who "continues the act by any other means", will be permanently banned, the administrator added.
Lawyer Mr Vaswani said moderators of such social media groups and forums may have a legal obligation to prevent doxxing on their pages.
"If there's a moderator moderating all the posts before they are actually put online, then there will be a greater burden on the moderator and there will be a greater responsibility accordingly," he said.
If online group moderators allow information to remain online that they ought to have removed despite being put on notice, they may be liable for facilitating harassment or doxxing, he said.
"Ultimately of course it would depend on the individual facts and circumstances of each case, in particular in assessing whether the actions or inaction of the moderators was reasonable."

Source: CNA/ja(cy)
Read Full Original Article on CNA HERE.